The Chinese welcomed the world the Beijing and boy! Do they know how to put on a show.  
"How did they do that?" was said more times that I care to count.   But seriously, how did they do that?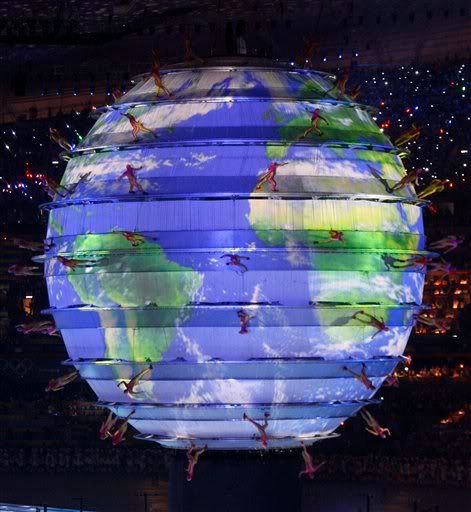 The fireworks were spectacular, but didn't help out with the pollution.
The Greek flag was apparently edible.
I thought pictures of the Birds Nest were great, until I saw the Water Cube.  Wow.
The dancing calligraphers were great, the drumline was awesome, the movable print -uh-- thing was outstanding.  So I feel petty pointing out that we can see this guy's wires.  I supposed for all of the dazzle they gave us, we should forgive that little slip. (for the pendantics in the crowd, I'm joking!)
Team USA looking spiffy,
...and tall......
But others were taller. OK, that kid? They say he's 9. Just how long is the typical Chinese year? Six months, 'cause that kid sure doesn't look 9.
Again, wow.
Quite a few countries chose to go green.   Well, ok, it was a major color in their flags.  Iraq's (or Iran's --- ???) green was better than a lot of the others.    Green can be a tricky color to pull off, fashion-wise.
In fact, green men were everywhere.
Roger was his country's flag carrier on his birthday.  He's obviously quite happy.
Hungary.  Um.....  did anyone else have the urge to sing "Who Let the Dogs Out?"   Police were everywhere, but obviously the fashion police were elsewhere.  
Yeah.  And then there's this.  
On the day John Edwards admits to some hanky panky and watches his political career go up in flames, W does the spanky spanky and enjoys the perks of his lame duckitude.