We drove to New York, and did have the opportunity to have a chauffeur, my sister's boxer, Jackson. We politely declined the offer.
We almost lost my sister to some dudes on Harleys.
After finally negotiating the traffic in Manhattan and reaching our hotel, we went out in search of lunch. We decided we just wanted to grab a sandwich somewhere. I pointed out a sign and said, "There's a Su--- er, nevermind." They were all curious about what I was going to say because I was hysterically laughing. I finally told them that I saw a subway sign. In St. Louis, that means a sandwich shop. I defended myself by pointing out that I was sure I wasn't the only one who has ever made that mistake
My sis and I at the Yankees/Oriole's game. My daughter was sure I'd have trouble with Yankees' fans because I was wearing a Cardinal's shirt. We had no problems, and we saw other fans in Cardinals shirts as well. Smart people.
My daughter and niece at the game.
Jeff and I at the game. I keep wondering what he's looking at on the back of my head.
My niece, sister and daughter sitting on FDR Drive waiting for the fireworks.
Macy's fireworks. My skills as a photographer didn't do them justice.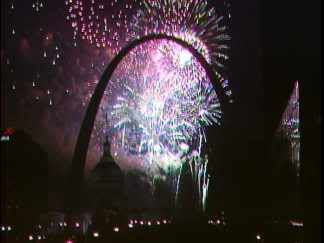 Being a hometown kind of girl, I will admit to having a soft spot for the fireworks over the Arch. (photo courtesy of St. Louis Post Dispatch)
The fake-purse vendors and other knock-off vendors found us. The final tally:
1 Fooey Viutton
2 Fucci
1 Fake Spade
1 Nada Prada
1 Fake Burberry
1 Foach wallet
1 pair of Fauxley sunglasses
The Nada Prada was the ugliest green purse I've ever seen. My sister bought it. She has a tendancy to buy purses in ugly colors. A number of years ago, she bought a huge hideous fuscia-colored purse. Her husband named the color "pu$$y pink".
As we were buying this stuff in Battery Park, the word went out and other vendors descended on us; it was like a feeding frenzy. Rolexes, more sunglasses, glass cases. We had to run for our lives with that ugly green purse of my sister's flying behind us.
My daughter pointing out dead ducks in Chinatown. Hope Fed doesn't recognize anyone. Um... come to think of it, has anyone seen Federal Duck lately?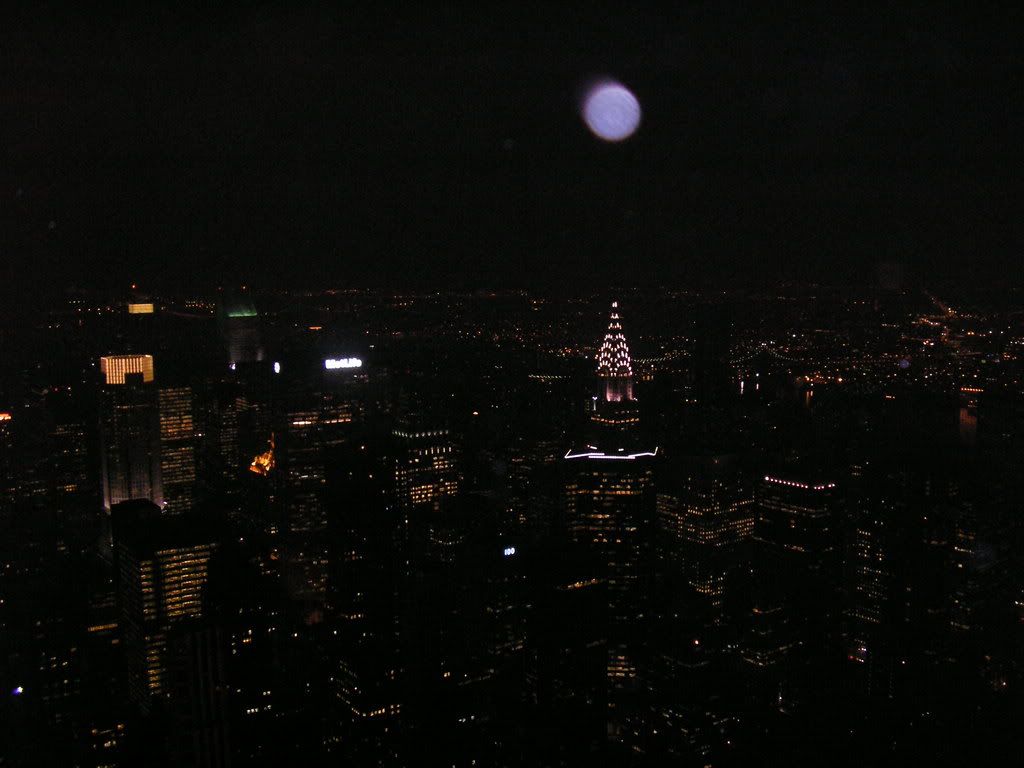 Moon over the Chrysler Building? Oddly, no. There was no full moon that night. We think it was a raindrop catching the light. This picture was taken from the Empire State Building.
Central Park. Ahhhhhhhh.
My niece and daughter in the lobby of our hotel as we were leaving to see
Spamalot
on Broadway.
After holding up that heavy torch and tablet all of these years, Lady Liberty decided to assume a reclining position the day we were there. I don't blame her.
This is the Registry Room at Ellis Island. My daughter's great grandmother on her dad's side went through here with $5.00 in her pocket and 5 young sons at her side. This room could be filled with thousands people waiting to be processed. Can you imagine standing in this room for hours and taking care of 5 young boys?
The girls were a little cramped in the back seat on the way home.
My daughter decided to stretch her legs. I bought odor eaters at the next stop.
On the way home, we stopped for dinner at the Oglebay Inn and Resort in Wheeling, WV. Beautiful scenery and great food.
That was the last picture; but not the end of the trip. We got to the Cincinnati area around 1:00 am and decided we had enough driving. Unfortunately, we had difficulty finding a room at the inn. Of course, we had started our search around Exit 25 off I-71; which is the exit to King Island Theme Park. We eventually did find a room -- just as I was getting ready to call some friends in the area (hi, Lab and BrianB).
And now I'm home. Sadly, while I was gone, elves did not surprise me by getting my things unpacked.
We want to thank Jeff and Jackie for giving us a great tutorial on surviving Manhattan and the subway system; and we thoroughly enjoyed meeting Wurm as well.